Big news folks... it's finally confirmed: the C&C Meets Star Wars campaign WILL have movies! I managed to get the video fragments I needed from the first movie (Episode 4), and I'm very busy converting them to VQA format.

I've also been working on special buildings like Luke's home - you can check out the graphics in the Screenshots section :)

And for the rest... the Scrap Vat (final name) and Laser Post have been added to the Info pages.
Working on yet another new building - the new Scrap Silo :)
The building itself is pretty much finished. I still have to make the buildup animation though.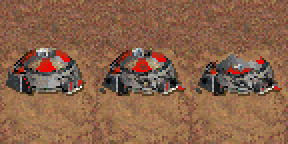 The Plasma Battery has been added to the Empire's Structures Info page.

Enjoy! :)
Here's a preview of two new buildings I've been working on: the Plasma Battery (Avanced Guard Tower) and Laser Post (Guard Tower). All I still need to do now is make some icons and a build-up animation for the Laser Post.
Enjoy the preview ;)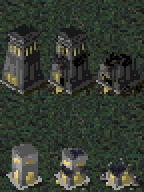 (And yes, it took me bloody ages to get the third frame in the game. Thank goodness for technicians and their guns that take off a single hitpoint)